"Congratulation" for your new pets! You may purchase a pair of rabbits as your pet, or you are thinking of buying rabbits, that's why you are here to get proper knowledge about rabbit foods.
Compared to other pets, the rabbit food chart is quite wealthy because rabbits eat various types of food. As well as commercial feed, rabbits love to eat vegetables, fruits, hays, and grasses.
Although rabbits love eating different items to satisfy their hunger, they only drink fresh water to quench their thirst. That's why their maintenance cost is relatively low, and you can also feed them kitchen vegetables.
However, do you know not every fruits and vegetables are safe for rabbit? Yes, some foods are unhealthy and unsafe for rabbits, but your rabbits can still chew those foods.
That's why you should stay aware of rabbit feeding. Today, we will tell which fruits and vegetables are good for rabbit's health and what vegetables and fruits can eat. So without wasting more time, look at the safest vegetable chart for your pet rabbits.
What Vegetables Can Rabbits Eat? [Vegetable List]
Rabbits mostly love to eat hays; vegetables are their second favorite food item after hays.
Although there is a penalty for vegetables on rabbit's food chart, some are also harmful and unsafe for rabbits.
Let's see some vegetables and green leaves, which rabbits love to eat.
Vegetables and Green Leaves for Rabbits
Cabbage
Carrot/ Carrot tops
Rocket Leaf
Spring Greens
Spinaches
Broccolis
Kales
Jerusalem Artichokes
Bell Peppers
Watercress
Celeries
Fennels
Brussel Sprouts
Courgettes
Mangetouts
Basils
Dills
Corianders
Oreganos
Parsleys
Rosemary
Thyme
Plantains
Nettles
Clover
Mustard Greens
Bok Choy
Kohlrabies
Leafy Green Lettuces
Arugulas
Endive
Turnip Greens
Raspberry Leaves
Radicchio
Dill Leaves
Swiss Chards
Cucumber With Leaves
Parsnips
Zucchini Squashes
Brussel Sprouts
What Fruits Can Rabbits Eat? [Fruits List]
It's a common question for rabbit lovers, which fruits are safe for rabbits? Well, if you are new to rabbits, you should know that rabbits love to eat fruits as well as vegetables.
But of course, not all types of fruits are safe for rabbits, and now here we will show you a rabbit fruit chart where we added some healthier and safest fruits for rabbits.
Safe Fruits for Rabbits
Watermelons
Raspberries
Pears
Peaches
Plums
Papayas
Berries
Cherries
Blueberries
Strawberries
Bananas
Mangoes
Apricots
Blackberries
Nectarines
Apples
Grapes
Pineapples
Oranges
Melons
Cranberries
Kiwi Fruits
What Flowers Can Rabbits Eat? [Flowers List]
If you think rabbits only eat pellets, fruits, and vegetables, then you are wrong.
Because rabbits also love to eat small flowers. Additionally, their safest flower list is more prosperous than the fruit list.
Here we will show you all the safest flowers that rabbits can eat. So if you want to know which flowers are safe for rabbits, this part will significantly help you.
Safe Flowers for Rabbits
Cauliflowers
Yarrows
Sow Thistles
Shepherds Purses
Nasturtium
Mallows
Lavenders
Dandelions
Comfreys
Colts-foots
Chickweeds
Chamomiles
Calendulas
Borages
Cilantro
Chicory
Escaroles
Violets
Pansies
Common Daisies
Marigolds
Periwinkles
Cornflowers
Echinacea's
Carnations
Dahlias
Sweet Alyssums
Lantanas
Hollyhocks
Bellflowers
Common Sunflowers
Oriental Poppies
Unsafe Foods For Rabbits
Like other animals, there are many unsafe and unhealthy food items for rabbits. And as an owner, you should look at these foods because these foods are pretty familiar.
Potatoes are unsafe for rabbits; like potatoes, many items are familiar among humans but dangerous for rabbits. And you should remember one more thing: overeating high-sugar fruit is very harmful to rabbits' health.
Moreover, fruits which have big seeds (like avocado, apricots, and peaches) are also harmful to rabbits.
Also, chocolate, mushrooms, onion bulbs, and kidney beans are unsafe for rabbits.
Since rabbits chew everything that they find in front of them, that's why as an owner, you should stay aware.
Anyway, we have told you too many high-sugar or big-been fruits are harmful to rabbits. Now let's see which vegetables and flowers are unsafe for rabbits.
| | |
| --- | --- |
| Unsafe Vegetables for Rabbits | Unsafe Flowers for Rabbits |
| Potatoes | Azalea |
| Rhubarb | Ragwort |
| Mushrooms | Hemlock |
| Iceberg Lettuce | Meadow Saffron |
| Garlic | Deadly Nightshade |
| Onion Bulbs | Figwort |
| Kidney Beans | Poppies |
| Corn | Foxglove |
| Broad Beans | Buttercups |
Rabbit Diet Chart By Age [Daily Rabbit Food Chart]
It is an essential section, especially for new rabbit holders, because they don't know which foods they should provide to their rabbits according to their ages.
Here we will show you rabbit food charts age by age.
But for your convenience, we divided rabbit ages into three different sections, and in each area, you should provide other foods. These age sections are:-
0 to 3 weeks
4 to 7 weeks
7 weeks or older
So without wasting time, let's look at which foods you should provide to your rabbit age by age.
0 to 3 Weeks:
Most of the rabbits are born with closed eyes, and during 0 to 3 weeks, mother rabbits will feed their babies. But if your newborn rabbits are orphans or you have wild bunnies, how can you take care of your orphan bunnies?
Although it's tough to take proper care of your orphan bunnies, you can feed them goat milk instead of rabbit milk. You can also feel KMR kitten milk for your orphan bunnies.
4 to 7 Weeks: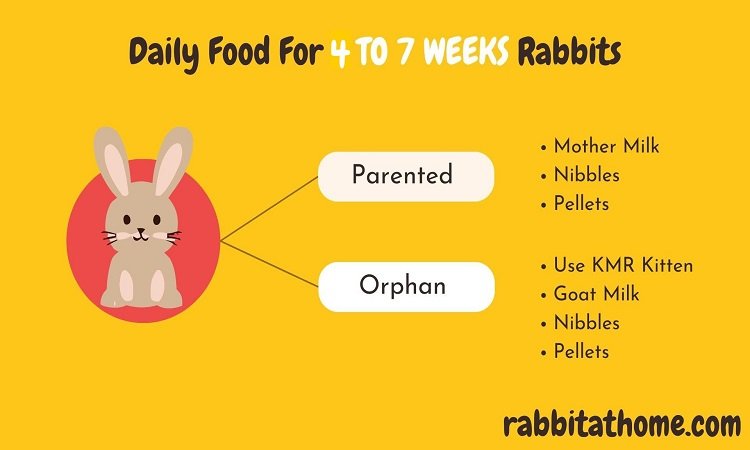 During that age, you should provide some pellets and nibbles to your bunnies. And their mother will also feed them milk regularly.
7 Weeks or Older: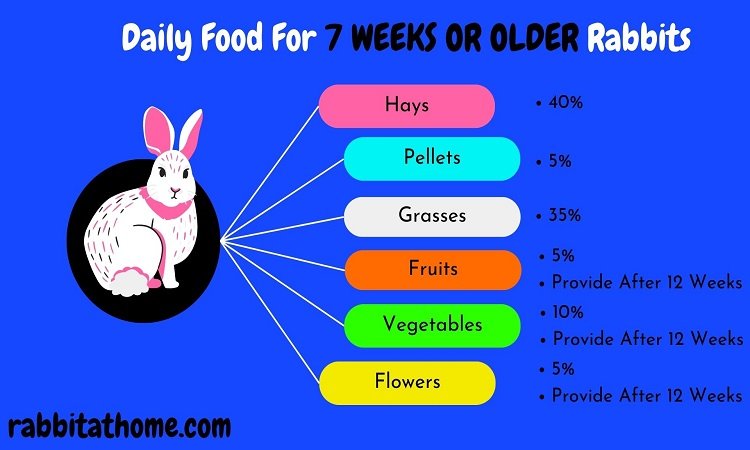 After 7 weeks, your rabbits can eat almost every type of food. Yes, after 7 to 12 weeks, your rabbits will eat hays, grasses, and pellets regularly.
Additionally, after 12 weeks, you should introduce safe rabbit fruits, vegetables, and small flowers. Rabbits love to eat vegetables and green leaves.
So please regularly provide them with a small amount of vegetables, fruits, and flowers.
And for your convenience, we have included the percentage of every rabbit food item in the infographics.
How Many Times Feed Rabbit A Day? [Rabbit Food Time Table]
When your rabbits are newborns, you shouldn't provide food because their mother will provide them milk when needed.
But if your bunnies are orphans, then you should feed them goat milk twice a day. Even when your rabbits are teenage or adults, you should provide food twice daily.
If your rabbits are small in size, then also provide them with food twice a day. But in that case, you should consider the food amount and give some food to your small rabbits.
And considering their age and weight, you should increase and decrease food amount.
Providing vast amounts of food together once a day is also okay, but it will be better for you to provide food twice a day.
You can learn more here, Nutrition Know-How: Pet Rabbit Nutrition.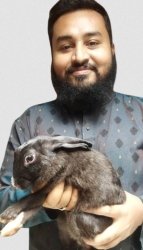 Latest posts by Shaharier Islam (Akash)
(see all)