There are about 20 different colors found in different species of rabbits. Among these, white is the most observed, and maybe you also love white color rabbits. Besides the white color, we usually see brown and black colored rabbits.
Brown color rabbits are available almost in every region all over the world. And you are here because you probably have a brown bunny and looking for a unique and meaningful name for a brown bunny.
Don't worry; here, we will tell you 50 unique names for brown bunnies. These names are meaningful; you can easily pick the most suitable name for your pet rabbit.
Here are the 50 beautiful names for your brown bunnies.
Bramble
Mochi
Hazel
Copper
Autumn
Truffle
Cinnamon
Peanut
Cocoa
Rusty
Ember
Waffles
Saffron
Chestnut
Ginger
Fudge
Pecan
Marzipan
Biscotti
Mocha
Caramel
Nutmeg
Raisin
Almond
Henna
Chip
Espresso
Latte
S'mores
Walnut
Toffee
Maple
Truffle
Sepia
Bronzie
Butterscotch
Rustle
Moose
Whiskey
Barkley
Pudding
Bonbon
Rustle
Fawn
Ember
Fuzzy
Mousse
Pumpernickel
Gingerbread
Biscuit
Every name we have selected here for brown rabbits is meaningful. Also, since the names have such beautiful meanings, you will feel a kind of affection when you call your rabbit by these names.
Are you not liking these names? Or do you not understand which is a male or female name?
Don't worry, and we will help you to find the cutest names for your male and female brown rabbits.
But before starting, we will tell you which types of names suit your brown bunnies. Yes, this part will help you to consider the perfect names for your brown rabbits.
What Should I Name My Brown Rabbit?
Rabbits are undoubtedly very cute animals, and as pets, they are cute and very charming. And when you are thinking of naming this cute animal, you must be careful with your name.
The rabbit's name should be the cutest word in your language, just like if you're American; the cutest word in English could be your rabbit's name. Similarly, if you are Japanese, you should give cute Japanese names to your rabbit.
In these cases, you can also keep your rabbit's name as same as flowers, fruits, cakes, or sweet foods (which are related to the colour brown).
By the way, don't be upset if you are not finding any cute names for your rabbits because below, we will show you some of the cutest names for brown rabbits, which are meaningful and make you feel better when you call your brown rabbits with those names.
Cute Rabbit Names For Brown Bunny
Since rabbits are cute animals, you have to keep the cutest names for your rabbits. But before choosing a name, you must consider its color and patterns.
Like for white rabbits, you should choose names related to white objects.
In the same case for brown rabbits, you have to choose brown-related names; at the same time, the name is cute and meaningful.
So let's see 50 meaningful cutest names for brown bunnies.
Cocoa
Hazel
Biscuit
Cinnamon
Chestnut
Fudge
Teddy
Mocha
Sandy
Copper
Nutmeg
Truffle
Honey
Rusty
Peanut
Maple
Toffee
Ginger
Acorn
Chip
Almond
S'mores
Muffin
Brownie
Caramel
Walnut
Raisin
Butterscotch
Pudding
Cookie
Snickers
Marzipan
Chai
Latte
Cappuccino
Oreo
S'moreo
Bunsen
Whiskers
Hopper
Waffles
Marshmallow
Bambi
Cuddles
Pecan
Pretzel
Tater Tot
Toffee
Snickerdoodle
Buttercup
These are the 50 cutest names for brown bunnies, you can easily pick any name. But of course, read all these names, which will help you to find the most suitable one.
Male Rabbit Names For Brown Bunny
If you are new to rabbits or don't know about rabbit rearing before, then it will be hard for you to choose the perfect names for male or female rabbits. Don't worry, we are here to make this difficult task easier for you.
Here we will discuss male and female rabbit names to help you find the most suitable names for your beloved rabbits.
First of all, let's take a look at some rabbit names for brown male bunnies.
Rustle
Ember
Truffle
Java
Tango
Hershey
Mochaccino
Brawny
Copperfield
Nimbus
Topaz
Mocha Latte
Rumbler
Chesterton
Cocoa Puff
Mahogany
Whiskerwick
Russet
Marlowe
Colby
Female Rabbit Names For Brown Bunny
Now look at the female section, we have chosen these names after a good research on lots of bunnies. Our long experience of rearing rabbits has helped us a lot in keeping these names.
We have given these names to our female brown rabbits at various times and still do to brown rabbits.
Autumn
Truffle
Hazel
Cocoa Bean
Mahogany
Cinnamon
Saffron
Ember
Fudge
Marigold
Nutella
Mocha
Copper
Tawny
Biscotti
Chestnut
Sienna
Gingerbread
Coco
Marzipan
Those are the sweetest names for brown female rabbits, we hope you got the suitable names for your male and female rabbits from this article.
If you think this article is helpful for bunny/rabbit lovers, share it with your rabbit-lover friends. And if you have any name-related and other questions about rabbits, ask us without any confusion.
Others Relevant Articles: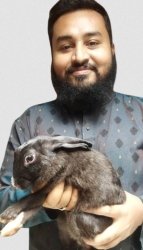 Latest posts by Shaharier Islam (Akash)
(see all)